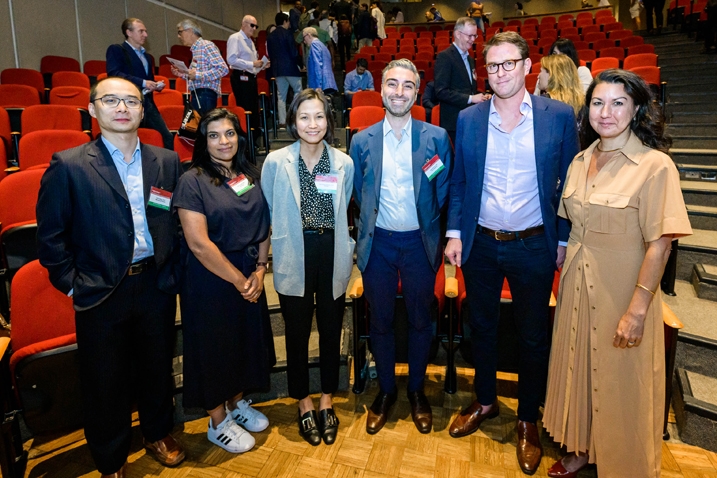 Scientists Pitch Medical Innovations at 2023 Biomedical Business Plan Challenge | Newsrooms
Standing on the stage at Uris Auditorium on June 1, Dr. Joe Zhou, an associate professor in regenerative medicine in medicine at Weill Cornell Medicine, made the case for the necessity of developing new approaches to treating diabetes, a disease he called "a true epidemic of the modern world."
More than 400 million people globally live with diabetes. It leads to roughly 4 million deaths annually due to complications and racks up nearly a trillion in health care spending. Millions of diabetic patients rely on daily finger pricks to monitor blood glucose and insulin injections to control hyperglycemia. These are very difficult to manage for adults, let alone millions of children with type 1 diabetes. Bolus insulin injections often lead to imprecise dosing and over time, serious complications such as developing neuropathy and retinopathy, greatly reducing the quality of life.
Harnessing the power of regenerative medicine, Dr. Zhou and his research team at the Hartman Institute for Therapeutic Organ Regeneration have developed an innovative cell therapy that creates insulin-producing pancreatic islet-like cell clusters, or organoids, that derive from an individual's own stomach cells. These organoids can detect blood glucose fluctuations and secrete just the right amount of insulin to counteract the rise of blood sugar, similar to the pancreatic islets. In pre-clinical studies, transplantation of these human organoids stabilized blood sugar for as long as the grafts were in place. This cell therapy approach has the potential to eliminate constant glucose monitoring and insulin injection and, by providing precise dosing, may reduce the risk of debilitating long-term complications brought on by diabetes. Dr. Zhou, along with a postdoctoral fellow Dr. Xiaofeng Steve Huangare forming a company, tentatively named Cell Programming Technologies, which they pitched to a panel of judges––each with deep domain expertise as evaluators of new technology––as the future in diabetes treatment.
Dr. Zhou's presentation was one of six pitches at the 2023 Biomedical Business Plan Challenge Final Pitch Day competition, an annual event organized by Weill Cornell Medicine's BioVenture eLab, part of Enterprise Innovation. BioVenture eLab helps Weill Cornell Medicine scientists and clinicians curate, launch, capitalize and recruit management for their companies, known in the industry as NewCos, in order to translate their inventions into new therapeutics, diagnostics and medical devices that will be available in the clinic.
The challenge marks the culmination of 10 weeks of research, collaboration and business development at Weill Cornell Medicine, during which entrepreneurial scientists immerse themselves in an intensive mentoring program to build and refine a complete business plan that will ultimately be presented before a panel of biomedical ventures investors.
"The annual Business Plan Challenge has proven to be one of our most popular and impactful events," said Larry Schlossman, managing director of BioPharma Alliances and Research Collaborations, which oversees the BioVenture eLab. "It has rapidly become one of Enterprise Innovation's signature programs, helping to build Weill Cornell Medicine's culture of innovation and entrepreneurship, as well as the broader New York City ecosystem."
The presentations exemplify the diverse innovations fostered by Weill Cornell Medicine, from utilizing MicroRNA technology to treat obesity and high cholesterol, to harnessing novel small molecules to treat metabolic diseases and cancer. This year's Business Plan Challenge also included an entry from Weill Cornell Medicine–Qatar represented by Dr. Hani Najafi, an assistant professor of cell and developmental biology. What was at stake was $100,000 in prize money, which can be used to help build the company, with the goal of ushering in the next generation of life science innovation and patient care.
The judging panel featured a wide range of disciplines and expertise, and included Dr. Artavazd Arumov, vice president of Qiming Ventures (US); Dr. Uya Chuluunbaatar, partner at Avoro Ventures; Dr. Sonia Gulati, principal at Global BioAccess Fund; Dr. Misti Ushio, managing partner at Digitalis Ventures; Dr. Colin (Leyi) Wang (Ph.D. '12), managing director of 6 Dimensions Capital; and Dr. Samuel Hall, managing partner at Scion Life Sciences.
After each presentation, the panel probed participants about each company's business plan, how they would bring their ideas to fruition and, ultimately, how each one would best use the event's cash prize to bring their products to market.
Dr. Krystyn J. Van Vlietvice president for Research and Innovation at Cornell, noted the power of the BioVenture eLab program and the role each of the teams plays in the future of biomedical innovation.
"I understand how difficult it is to turn an idea from a scientific lab into a viable product and a company," he said. "It is programs like this that provide the practice to make that translation possible."
Loren A. Busby, director of the BioVenture eLab, highlighted the teams' journey from the start of the mentorship program to the pitch event. Each participant was selected for their promise and commitment to innovation, she said. Upon entering the program, participants were asked key questions, including: "What is your definition of entrepreneurship?" and "What do you have in common with this definition?" Most teams were comprised of faculty, postdoctoral associates and doctoral students, some of whom had previously participated in BioVenture eLab's Accelerating BioVenture Innovations course, an anchor program in the suite of entrepreneurship courses at Weill Cornell.
Dr. Zhou's team won the first-place award, which totaled $80,000 and will go toward research and development. Dr. Zhou previously received an award from Weill Cornell Medicine's Daedalus Fund for Innovation (also part of Enterprise Innovation), a dedicated in-house technology development and de-risking program, for this research.
"We learned a lot during this process," he said. "To have the strong support of this institution is really fantastic. The recognition from the people in the room — to connect with the people here, is so important. This will be huge for our company."
EpiStemyx, led by Dr. Steven Josephowiczan associate professor of pathology and laboratory medicine at Weill Cornell Medicine, and Dr. Franck Barratta professor of microbiology and immunology at Weill Cornell Medicine and a senior scientist at Hospital for Special Surgery, won the second-place prize of $20,000.
During his presentation,Dr. Josefowicz explained how EpiStemyx would create a platform to isolate and characterize rare circulating blood stem cells from a regular blood draw. They plan to generate a blood stem cell atlas to map changes in blood cell production and in a type of gene regulation called epigenetics in stem cells in health and disease. This stem cell atlas could be applied to guide treatment and identify new therapies for an array of diseases where the role of blood stem cells has been a "black box" because they are challenging to access and study.
"As researchers, we have trained intuition about pursuing and identifying important discoveries, but I've found translating and commercializing discoveries for direct impact to be a lot less intuitive," Dr. Josefowicz said. "Loren and the BioVenture eLab program demystified this and brought in an open and encouraging community of experts and advisors that illuminated this path."